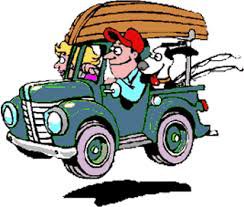 what is Camp Discovery?
Camp Discovery is a student summer camp for 1st-6th graders that focuses on learning & growing deeper in the gospel while including the fun aspects of camp: music, crafts, recreation, and a daily field trip.
when, where, & time of camp discovery?
When? first week of June
Where? First Baptist Church in Blountville
Time? Starts at 9:00am every morning and pick up is at 4:30pm or 5:00pm depending on schedule (you can find on flyer).
what is the cost to Attend?
The cost for the week is $65 per child. This includes snacks, field trips, transportation, materials for craft time, and a camp t-shirt.
what do you do at Camp Discovery?
Typical Schedule
Check In
Morning Worship & Teachings
Bible Study
Crafts
Recreation
Lunch (Packed Lunch)
Daily Field Trip
Check Out
Daily Field Trip Schedule 2021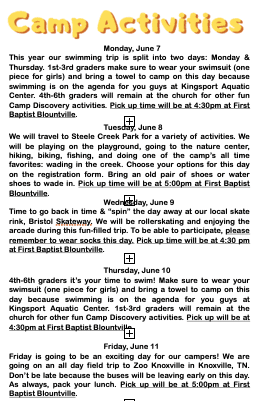 Helpful Info You Need to Know